Illustrated by Irene Chan / Published by

Why Political Science?
Think about it. 
Future Mayors, Governors, Representatives and Presidents have already been born. They may be riding in a stroller or splashing in the tub – right now. These are the perfect books to inspire our next generation of voters and leaders!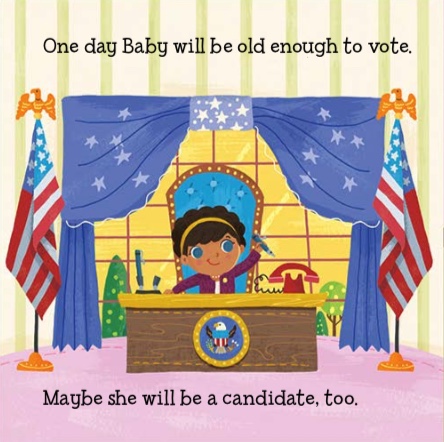 Everyone Loves BABY LOVES!
"An introduction to basic vocabulary surrounding democracy, this delightful board book with retro illustrations is both hip and helpful in cultivating a passion for voting in the youngest of readers." —PBS SoCal, How to Raise a Voter
"This timely addition to the series focuses on democracy in a developmentally friendly way. This nonpartisan introduction focuses on a mayoral race and depicts people making signs, sending letters, and going to a polling place. Colorful illustrations help contextualize some events that a little one may not have experienced yet. While this book will be well appreciated by traditional board book readers, it is also a great tool to explain this process to older children." —School Library Journal
"A straightforward and lively introduction to the democratic process. —Kirkus Reviews