* * A Bank Street College of Education Best Book of the Year! * *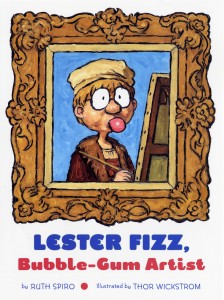 Everyone in the Fizz family is an artist. Everyone, that is, except Lester, whose paintings are pitiful and doodles are drab. He can't seem to find a way to fit in with the illustrious Fizzes, until one day a mouthful of gum becomes a work of art in Lester's talented lips.
With inspiration all around him, Lester develops his special talent. The school art contest is coming up. Will he be able to show the Fizzes that, with his gum, he really is an artist?
Reviews:
"The story is endearing… The words make delicious sounds; the meaning can be unraveled with the help of the illustrations. As they listen to, inspect, and enjoy Lester Fizz, youngsters will wonder why the adult reading aloud is laughing so hard. Maye they'll be curious enough to find out, and teachers may want to use the book to introduce modern Western art."
– School Library Journal

"Spiro's text is infused with alliteration and punning that adds to the sense of fun, which is extended in colorful, whimsical illustrations. Kids will appreciate the lively introduction to art history, as well as the supportive messages about discovering one's talents and finding a place within one's own family."
– Booklist

"Wickstrom illustrates Spiro's alliterative text with cartoon versions of famous art and artists, and closes with a group portrait of the proud young 'airtight' and his smiling family draped in pink goo. Pop art in the most literal sense."
– Kirkus Reviews